This post may contain affiliate links.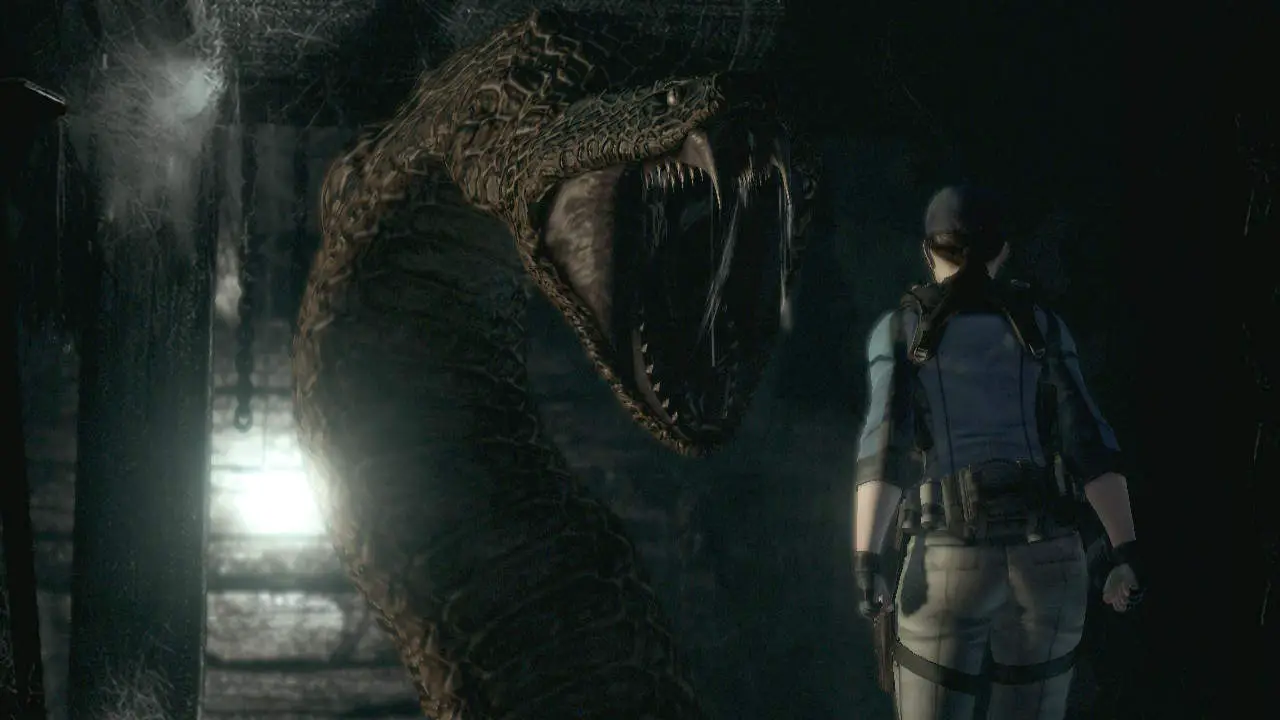 I love horror games and I love Nintendo Switch. Thus, I curated some of the spookiest and most fun horror games for the system I played and highly recommend (as long as you're brave enough).
The 10 Nintendo Switch horror games to play during Halloween include genre classics such as Bayonetta, Outlast, and Resident Evil along with retro gems like Zombie Ate My Neighbors and Night Slashers.

There is something for everyone on this list I curated, from suspense titles to action oriented affairs. Prepare to be spooked!
---
Want to celebrate the spooky season even more? Check out this gallery of awesome and epic images from my Bayonetta playthrough!
---
This post may contain Amazon affiliate links we earn from. Please assume all links are affiliate.
10 Nintendo Switch Horror Games To Play During Halloween
Overall, I recommend horror fans play 10 specific horror titles for Nintendo Switch.
These titles span decades, generations, genres, and play-styles.
For example, the remake and remaster of Resident Evil is required gaming and is one of the defining horror genre titles of all time.
Night Slashers, on the other hand, is a a relatively unknown arcade action game from the 1990s that oozes horror with bold character and enemy art and hordes of undead to vanquish.
In short, you came to the right place whether you are looking for a suspenseful single player adventure, an action-oriented multiplayer romp, retro classics, or even a visual novel mystery to play during the spookiest time of the year.
---
1) Bayonetta
Bayonetta is a game about controlling a powerful witch to destroy corrupt angels by using magic, weapons, and demons
This is the perfect game to play during the spooky season!
Light on suspense but heavy on action, Bayonetta focuses on intense gameplay that rewards skillful play while also providing heavy doses of gruesome deaths and horror themes such as angels, demons, witches, and so much more.
Simply put, this game is a lighthearted but intense experience that will make any Halloween season more enjoyable.
AVAILABLE: Bayonetta Physical Edition is available on Amazon
---
2) Night Slashers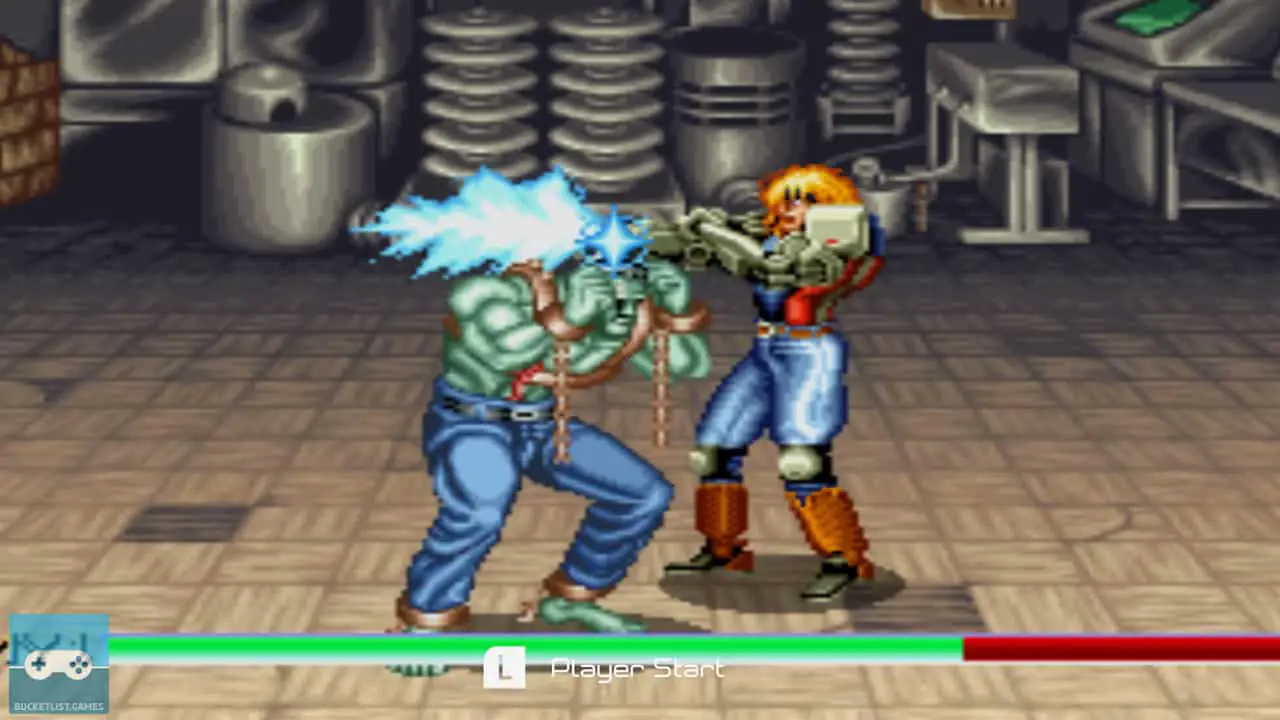 Night Slashers is an action game where the goal is to kill hordes of the undead across seven stages. There is plenty of horror action in this fun romp!
Originally an arcade game released in 1993, Night Slashers is a simple-yet-fun action game that requires players to pick a character and fight the undead stage after stage.
Epic and creepy horror-themed bosses wait at the end of each stage that result in memorable fights.
I really enjoyed this spooktacular game! The enemies–from zombies to werewolves and beyond–are large and cool to look at while fighting.
Furthermore, the game feels just as fun to play as classic arcade action games such as the Teenage Mutant Ninja Turtles and the Simpsons arcade games along with the Final Fight and Streets of Rage series if you're familiar.
If you're not familiar, you are in for a treat!
Pick up Night Slashers for a fun, single or multiplayer arcade experience this Halloween season that is enjoyable for the gameplay and horror theme.
AVAILABLE: Nintendo Switch eShop digital download
---
3) Bridge Constructor: The Walking Dead
Bridge Constructor: The Walking Dead is a zombie themed strategy simulation game set in the iconic AMC The Walking Dead television series.
The aim of the game is to build bridges across gaps to navigate the "walkers" (a.k.a zombies) away from the survivors.
Fans of the show will enjoy seeing characters from the television series make appearances, such as the lovable Eugene and the fearless Michonne.
At the same time, puzzle minded players can enjoy many brain-teasing levels that get more challenging as the game progresses.
Overall, Bridge Constructor: The Walking Dead is a lighthearted affair set in a post apocalyptic world full of zombies that combines puzzle and strategy in one horror themed package that is ripe for play during Halloween.
AVAILABLE: Nintendo Switch eShop digital download
---
4) Resident Evil
Resident Evil is the granddaddy of horror games, a classic remade and remastered with terrifying realistic visuals that will leave players in suspense.
The aim of Resident Evil is to explore a mansion overrun by zombies and undead creatures as a military group looking for survivors.
Explore the building and surrounding areas while solving puzzles, managing and rationing a limited supply of items found throughout the environment, and fighting off everything from zombies to bio-mutant creations.
If there is just one game to play during Halloween, this is the one.
Resident Evil is an iconic series and the first game brings the scares, suspense, and spookiness for true horror fans to enjoy.
I've played this gem on Sony PlayStation 1, Nintendo GameCube, Nintendo DS, Nintendo Wii, computer, and now on Nintendo Switch. This game always remains fun and never gets stale.
AVAILABLE: Nintendo Switch eShop digital download
---
5) Limbo
Limbo is the pinnacle of suspense-driven single player storytelling that will keep you up at night during the spooky season.
The game starts off with a small boy waking up in a dark world made up of black and white, no color. He became lost in limbo on his way to save his sister and now wanders in a dreadful world in search for her.
Control and navigate him through suspenseful moments, solving environmental puzzles that are both nerve racking and head scratching.
The fun and suspense is in the journey, and Limbo provides both until the very end.
Just watch out for any movement. Something may just be watching your every step.
This is a definite "must play" for players looking for a thrilling, short-but-sweet adventure during October. I've played it many times and still feel anxious throughout the journey.
AVAILABLE: Nintendo Switch eShop digital download
---
6) Darkstalkers 3: Vampire Savior (The Lord of Vampire)
Darkstalkers 3: Vampire Savior (The Lord of Vampire) is the perfect game for fighting fans looking for something horror-themed to play for the spookiest of seasons.
Specifically, Vampire Savior is one of the few horror-themed fighting games in existence and is made by arguably the best fighting game developers of all time, Capcom (the makers of Street Fighter and Marvel VS Capcom series among many others).
Select one of 15 characters based on the horror genre including vampires, a mummy, creatures, and monsters. Then, fight others or go through the arcade story mode to see each character's unique ending.
The music is top-notch, energetic fight tunes with horror flair. The same can be said about the high quality 2D art, backgrounds, and overall look of the game.
Everything screams "spooky genre" in Vampire Savior while remaining playful yet competitive for all daring enough to play.
Vampire Saviors has been one of my favorite fighting games since my brother bought it for us in the late 1990s when it originally released, and its Nintendo Switch re-release retains the fun of this unique horror fighting game.
AVAILABLE: Capcom Fighting Game Collection Physical Edition on Amazon
Capcom Arcade 2nd Stadium (Nintendo Switch eShop digital download)
---
7) Diablo 3

Diablo 3 is one of the best cooperative multiplayer game for Nintendo Switch in my opinion due to its breadth of content, and it happens to be a fantastic dark horror experience as well.
Gather yourself and a few others and battle hordes of undead, demons, angels, monsters, and all sorts of creatures through numerous environments overrun by creatures of the night.
Gameplay is action oriented with players hacking, slashing, and performing special attacks to foes.
Monsters drop items and equipment that can be adorned or sold, and characters ultimately learn new moves and grow stronger with each battle.
Hundreds, if not thousands, of hours can be spent in this dark world growing stronger and finding better equipment if one dares so. It's simply addicting fun that is near never ending.
This is truly one of the most fun games I've played, and I love playing it during the Halloween season with my spouse when we have the urge to destroy countless undead.
AVAILABLE: Diablo 3 Physical Edition is available on Amazon
---
8) Zombies Ate My Neighbors
Zombies Ate My Neighbors is one of the first horror games I ever played and is great zombie-killing fun!
Originally released on the Super Nintendo in the 1990s, Zombies Ate My Neighbors re-released digitally on Nintendo Switch (in a fantastic two-pack alongside its semi-sequel, Ghoul Patrol) to be enjoyed by a new generation.
The aim of the game is for one or two players to travel through dozens of stages to save their neighbors from the undead, shooting zombies and other scary creatures with an assortment of quirky weapons.
Water guns, soda cans, weed whackers, and more can all be used to destroy enemies through the course of the adventure.
The music is a stellar combination of upbeat horror, the visuals are unique, and the gameplay is intense and suspenseful at times.
This horror action game never disappoints. Just be prepared to see the "Game Over" screen many times during your play sessions; the creatures will get you.
Even so, the challenge is where the fun is. And Zombies Ate My Neighbors is challenging and easy to start playing.
I always love coming back to this gem during the spookiest time of year to squirt some zombies with my water gun and save my neighbors one more time.
AVAILABLE: Nintendo Switch eShop digital download
---
9) Vampire: The Masquerade – Shadows of New York
Vampire: The Masquerade-Shadows of New York is a horror visual novel with excellent art, eerie soundtrack, and solid writing.
Players become a freshly turned vampire trapped in the middle of a murder mystery filled with politics, vampires, death, and intrigue.
The goal is to find out who murdered the victim by performing detective work and speaking with suspects.
In this game, suspects just happen to be vampires who are usually higher up in the vampire hierarchy and who do not like to be questioned.
Being a visual novel, Shadow of New York's gameplay centers around reading pages of text provided alongside detailed artwork of characters who are currently in the conversation.
Players will get to make choices during conversations that will affect the events of the game, ultimately altering the ending for better or worse.
The game surprised me, as it kept me guessing who the murderer was to the very end. And due to the choices I made, I'm not even sure I chose correctly.
Yet, that is the joy of a visual novel game in which choices matter. I want to play it again to make better choices and get a better ending.
Play Shadows of New York is you are looking for a suspenseful, horror-mystery this Halloween season.
AVAILABLE: Nintendo Switch eShop digital download
---
10) Outlast
Outlast is truly the game for the brave, as it is one of the most suspenseful horror games I have ever played.
The game is matter-of-fact creepy, being set within an abandoned mental asylum. Players take control of a journalist bent on investigating odd happenings at the institution.
Of course, the investigator goes alone and is only equipped with a camcorder to record the scariest of moments ahead.
Navigating the asylum is haunting as each room is derelict, decaying, and void of color and life.
Occasionally, movement can be seen in the distance or close by. There are entities in the building, watching.
And without warning, these entities will being chasing until they get you. Run, hide, and sneak through the building in order to find the truth and survive.
I can say with all honesty that Outlast is such a good horror game, I never finished it. I felt overwhelmed with suspense and anxiousness whenever something chased me. And I loved it!
This may be the Halloween season for me to finally finish my trip through the abandoned asylum.
And, perhaps, you will too if you're looking for a truly suspenseful horror adventure.
AVAILABLE: Nintendo Switch eShop digital download
---
Read More Great Articles

Now you know 10 fun horror games to play on Nintendo Switch this Halloween.
Bookmark this site to stay up to date with even more Nintendo Switch guides, information, and more.
Check out all of our great articles on Bucket List Games.
---
Screenshots taken by me. Images sourced from product pages, websites, or social media and are credited appropriately. Logos, images, etc. belong to their respective owners. All information current at time of publication.)
SOURCE: Nintendo