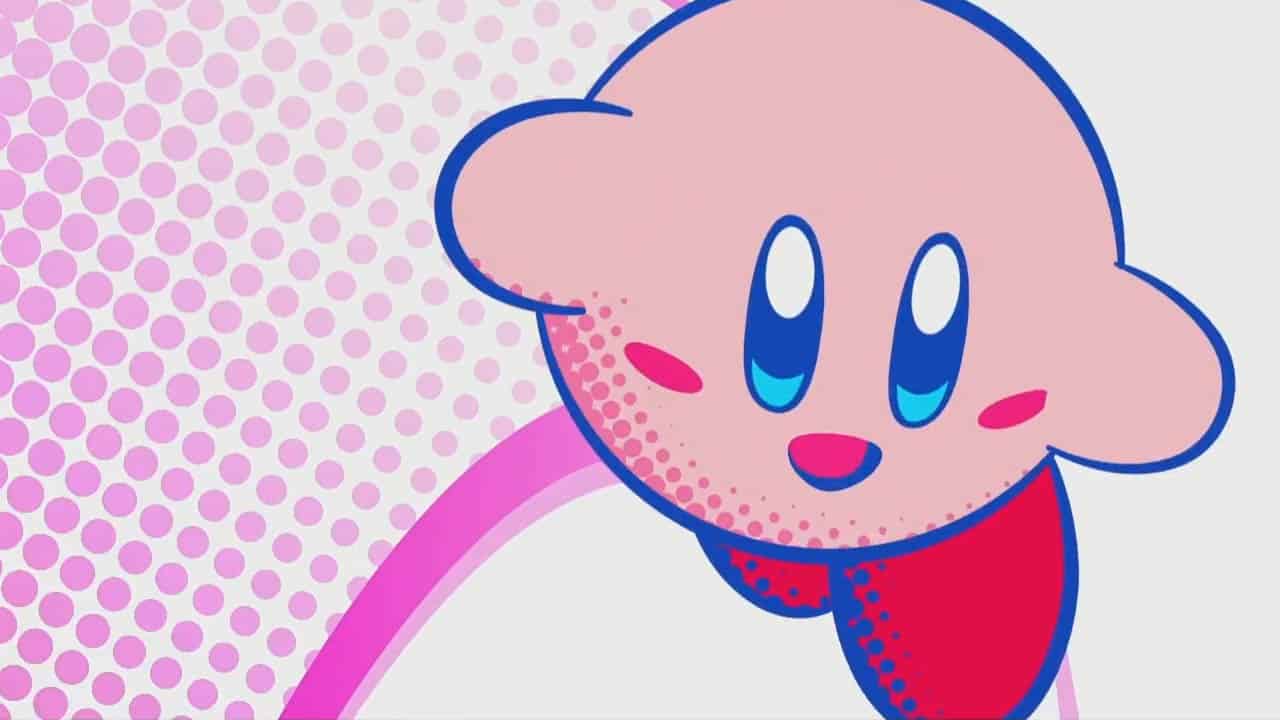 This post may contain Amazon affiliate links we earn from. Please assume all links are affiliate.
If you've ever wondered if the Nintendo Switch had game demos, I'm here to tell you emphatically, yes! Hundreds in fact.
In total, the Nintendo Switch has over 530 game demos available to download. Every demo is free to download and play for the duration set by the demo. And each demo will work on all Nintendo Switch consoles (original, Lite, and OLED).
New Nintendo Switch demos release all the time, which is why I created this essential complete list of free Nintendo Switch game demos for you.
You'll find every Nintendo Switch demo released from the system's launch in 2017 to 2022 and beyond.
I'll also explain how Nintendo Switch game demos work, where to find them, and how to download them.
---
If you're interested in checking out my highly recommended best Nintendo Switch games and gear, you can find them by clicking here.
---
Complete List Of Nintendo Switch Game Demos
There are over 500 free Nintendo Switch game demos for you to download and enjoy. Simply use this list to find a game you want to try-before-you-buy, launch the Nintendo Switch app, search for that game, and start downloading.
---
There are over 500 free Nintendo Switch game demos for you to download and enjoy
---
Downloading Nintendo Switch demos is a great method to trying out a game you're interested in purchasing, but there are a couple of things you'll need in order to download free game demos.
An internet connection is a requirement to download demos (Nintendo Switch demos are digital only)
Available storage space on your internal or external storage for the demo to download.
Otherwise, let's take a look at the essential complete list of every Nintendo Switch game demo available to play for free!
---
Nintendo Switch Demos Complete List
The following is a complete list of Nintendo Swtich game demos on the Nintendo Switch family of consoles as of 2022. These demos can be played for free and msut simply be downlaoded to your console before playing.
NINTENDO SWITCH GAME DEMO
#womenUp Super Puzzles Dream
10 Second Run Returns
16-Bit Soccer
1993 Shenandoah
8-Bit Farm
9 Monkeys of Shaolin
99Vidas Defintive Edition
A Duel Hand Disaster: Trackher
A Plague Tale (Cloud Version)
Aces of the Luftwaffe
Active Neurons 2
Adventures of Chris
Aegis Defenders
Aeolis Tournament
Aerial_Knight's Never Yield
AeternoBlade
AeternoBlade 2
Agent A: A puzzle in disguise
AI: The Somnium Files
Airfield Mania
Alpaca Ball: Allstars
Alternate Jake Hunter Daedalus
Animated Jigsaws: Beautiful Japanese Scenery
Anime Studio Story
Ape Out
Aperion Cyberstorm
Arietta of Spirits
ARMS
Art of Balance
Asalon: Tears of the Earth
Assault On Metaltron
A-Train: All Aboard! Tourism
Automachef
AVICII Invector
Awesome Pea
Awesome Pea 2
Ayakashi Koi Gikyoku Forbidden Romance
Bad North: Jotunn Edition
Bake 'n' Switch
Baobabs Mausoleum Ep. 1
Battle Chef Brigade Deluxe
Bear With Me: The Lost Robots
Beat Me!
Big Brain Academy: Brain vs Brain
Birds and Blocks
Black Hole
Blasphemous
Blaster Master Zero
Bleep Bloop
Block-a-Pix-Deluxe
Blossom Tales
Blue Reflection: Second Light
Bonfire Peaks
Bonkies
Boomerang Fu
Bot Vice
BOXBOY + BOXGIRL!
Bravely Default 2
Brawlout
Brigandine The Legend of Runersia
Brotherhood United
Bucket Knight
Bullet Beat
BurgerTime Party!
Byakko-tai Samurai Boys
Cadence of Hyrule
Cafeteria Nipponica
Cake Bash
Captain Toad: Treasure Tracker
Captain Tsubasa: Rise of New Champions
Castle Crashers Remastered
Cat Quest 2
Caveman Warriors
Children of Morta
Chinese Parents
ChromaGun
Ciel Fledge
Cinderella
Clone Drone in the Danger Zone
Clubhouse Games: 51 Worldwide Classics
Coffee Talk
Color Your World
Combat Core
Contra: Rogue Corps
Crash Drive 2
Crashnauts
Crayon Shincan
Croc's World
Croc's World 2
Croc's World 3
Croc's World Run
CrunchTime
Crying Suns
Cyrpt of the Serpent King
Daemon X Machina
Dandy Dungeon Legend of Brave Yamada
Dangerous Relationship
Dark Witch Music Episode
Darkestville Castle
Deadly Days
Death and Taxes
Death Come True
Death Squared
Deemo
Deep Ones
Dekstop Bowling
Dekstop Table Tennis
Demetrios The Big Cynical Adventure
Demolition Crew
Demon's Tier+
Depixtion
Desktop Baseball
Desktop Basketball
Desktop Dodgeball
Desktop Rugby
Desktop Soccer
Detention
Devious Dungeon
Devious Dungeon 2
Disaster Report 4: Summer Memories
Discolored
Disgaea 4 Complete+
Disgaea 5 Complete
Disgaea 6: Defiance of Destiny
Do Not Feed the Monkeys
Domiverse
Doodle God: Evolution
Doraemon Story of Seasons
Double Pug Switch
Dragon Quest Builders
Dragon Quest Builders 2
Dragon Quest XI S
DREAMO
Drowning
Dry Drowning
Dungeon Village
Earthlock
Earthworms
Eat Beat Deadspike
Embers of Mirrim
Energy Cycle Edge
Ephemeral: Fantasy on Dark
Epic Astro Story
Escape from Life Inc
Explosive Dinosaurs
Explosive Jake
Factorum 90
Fallen Legion Revenants
Fifty Words by POWGI
Fight Crab
Figment 2
Fill-a-Pix: Phil's Epic Adventure
Final Fantasy Crystal Chronicles Remastered Edition
Fitness Boxing
Fitness Boxing 2
Flat Heroes
Forgone
Forgotton Anne
forma.8
Freedom Planet
FUSER
Gabbuchi
Gakuen Club
Galaxy Champions TV
Galaxy Warfighter
Game Builder Garage
Game Dev Story
Game Dev Tycoon
Gelly Break
Gems of Magic: Father's Day
Georifters
Ghostrunner
Glam
Glyph
God Eater 3
Graceful Explosion Machine
Grand Prix Story
Grass Cutter Mutated Lawns
Greak: Memories of Azur
Griftlands
Grimvalor
Groove Coaster Wai Wai Party
Half Dead
Hampuzz
Happy Animals Bowling
Happy Birthdays
Hardcore Mecha
Harvest Moon: Mad Dash
Hashihime of the Old Book Town Append
Hatsune Miku: Project Diva Mega Mix
Have a Blast
Helheim Hassle
Hell Sports
Heroes of the Monkey Tavern
Hexagroove: Tactical DJ
Hidden in Plaine Sight
Hob: The Definitive Edition
Home Run High
Hot Springs Story
Howling Village: Echoes
Hypnospace Outlaw
Hyrule Warriors: Age of Calamity
I and Me
I, AI
Ice Station Z
Immortals Fenyx Rising
Implosion
Infini
Instant Sports
Instant Sports Paradise
Instant Tennis
Inversus Deluxe
Invisiballs
Invisigun reloaded
Iris School of Wizardry
Jet Kave Adventure
Jewel Fever 2
Jewel Rotation
Jigsaw Fun: Amazing Animals
Jigsaw Fun: Greatest Cities
Jigsaw Fun: Wonderful Nature
Just Shapes & Beats
Kairobotica
Katamari Damacy Reroll
Kid Tripp
Kill la Kill -IF
Kingdom Hearts Melody of Memory
Kirby Fighters 2
Kirby Star Allies
Kitty Love -Way to look for love-
Kitty Maestro
Knockout Home Fitness
Kunai
Labyrinth of Refrain: Coven of Dusk
Langrisser 1 & 2
League of Evil
Lethal League Blaze
Liberated: Enhanced Edition
Link-a-Pix Deluxe
Little Kite
Little Nightmares 2
Lode Runner Legacy
Lonely Mountains: Downhill
Lost Lands 2: The Four Horsemen
Lost Lands 3: The Golden Curse
Lost Lands: Dark Overlord
Lost Lands: Ice Spell
Lost Lands: The Wanderer
Lost Sphear
LOVE: A Puzzle Box Filled with Stories
Mad Rat Dead
Magazine Mogul
Mahjong Solitaire Refresh
March to a Million
Mario & Sonic at the Olympic Games Tokyo 2020
Mars Horizon
Marvel's Guardians of the Galaxy (Cloud Version)
Max: The Curse of Brotherhood
Mega Mall Story
Mega Man 11
Metamorphosis
Metorid Dread
Metropolis: Lux Obscura
Midnight Deluxe
Mighty Gunvolt Burst
Miitopia
Milo & Kilo
Mimpi Dreams
Mini Motor Racing X
Mistover
Monopoly
Monster Hunter Rise
Monster Hunter Stories 2
Monster Puzzle
Moonlighter
Morphite
Moving Out
Mr. Driller DrillLand
Mugsters
My Bewitching Perfume
My Big Sister
My Butler
My Hero One's Justice 2
My Secret Pets!
Mythic Ocean
n' Verlore Verstand
NBA 2K20
NBA 2K21
NEO: The World Ends with You
Neon Abyss
New Star Manager
New Super Lucky's Tale
New York Mysteries
New York Mysteries: High Voltage
New York Mysteries: The Lantern of Souls
New York Mysteries: The Outbreak
Nexoria
Nine Parchments
Ninja Village
Ninjin: Clash of Carrots
Oceanhorn
Octahedron
Office Lovers
Oh!Edo Towns
Okinawa Rush
One More Dungeon
Oninaki
Ori and the Blind Forest
Our Flick Erasers
Our Summer Festival
Out of Line
Out There: The Alliance
Overdriven Reloaded: Special Edition
OVIVO
Pacific Wings
PHOGS!
Pic-a-Pix Deluxe
Pic-a-Pix Pieces
Picross S6
Picross S Genesis
Picross S4
Picross S5
Piczle Colors
Piczle Cross Adventure
Piczle Lines DX
Pikmin 3 Deluxe
Pillar
Pixel Puzzle Makeout League
PixelJunk Eden 2
PixelJunk Monsters 2
Planet Alpha
Plantera Deluxe
Pocket Academy
Pocket Arcade Story
Pocket Clothier
Pocket Harvest
Pocket League Story
Pocket Stables
Pokémon Let's Go, Eevee!
Pokémon Mystery Dungeon: Rescue Team DX
Pokémon: Let's Go, Pikachu!
Pokken Tournament DX
Polyroll
Portal Dogs
Portal Knights
Princess Closet
Professor Lupo and his Horrible Pets
Puddle Knights
Puzzle Box Maker
Puzzle Puppers
Puzzle Quest: The Legend Returns
Qbik
Quest Hunter
Quest of Dungeons
Rain City
Raji: An Ancient Epic
Rayman Legends Definitive Edition
ReactorX
Regina & Mac
Resident Evil 5
Resident Evil 6
Retimed
Rev Up! RC Grand Prix
Riddled Corpses EX
Ring of Pain
Rise of the Slime
Rising Hell
RISK Global Domination
Road 96
Robbotto
Robonauts
Rogue Heroes: Ruins of Tasos
R-Type Dimensions DX
R-Type Rinal 2
Sakura In Gameland
Sam & Max Save the World
Samurai Warriors 5
Save Your Nuts
ScourgeBringer
Scrap Rushi!
Secrets of Me
Semispheres
Shadowverse: Champion's Battle
Shape Suitable
Shift Happens
Shift Quantum
Shining Resonance Refrain
Shiny Ski Resort
Sky Racket
Sky Rogue
Skybolt Zack
Slayin 2
Slime-san
Smart Moves
Smash Boats
Snipperclips
SOLAS 128
Songbird Sumphony
Sound waves
Space Marshals
Space Marshals 2
Space War Arena
SpeedRunners
Spelunker Party!
Spiral Memoria
Spiritfarer
Splatter
Squareboy vs Bullies
Stealth
Steam Prison
Steam Tactics
Stikbold!
Strawberry Vinegar
Strike! Ten Pin Bowling
Strikey Sisters
Summer Catchers
Summer in Mara
Super Chariot
Super Dragon Ball Heroes World Mission
Super Kickers League
Super Magbot
Super Mega Baseball 2: Ultimate Edition
Super Mega Baseball 3
Super One More Jump
Super Phantom Cat: Remake
Sushi Striker
Swim Out
Sword Art Online: Fatal Bullet
Sword of the Necromancer
Tangle Tower
Tetra's Escape
The Almost Gone
The Bridge
THE Card Battle: Eternal Destiny
The Casebook of Arkady Smith
The Charming Empire
The Flower Collectors
The Forgotten City (Cloud Version)
The Last Friend
The Legend of Dark Witch
The Legend of Heroes: Trails of Cold Steel 3
The Lightbringer
The Manga Works
The Mystery of Woolley Mountain
The Number Puzzle
The Path of Motus
The Plane Effect
The Pyraplex
The Ramen Sensei
The Solitaire Conspiracy
The Survivalists
The Sushi Spinnery
The Touryst
The Tower of Beatrice
The Wonderful 101: Remastered
The World Next Door
Them Bombs!
Thomas Was Alone
Throw it! Animal park
Tic-Tac-Letters by POWGI
Tied Together
Timberman VS
Timelie
Toki Tori 2+
Tomb of the Mask
Tools Up!
Torchlight 2
TorqueL
Touhou Spell Bubble
Toy Stunt Bike: Tiptop's Trials
Trials of Mana
Trials Rising
Triangle Strategy
Trine 4: The Nightmare Prince
Trivial Pursuit Live!
True Fear: Forsaken Souls Part 1
True Fear: Forsaken Souls Part 2
Tumblestone
Twin Robots: Ultimate Edition
Tyd wag vir Niemand
Ultra Age
Ultra Space Battle Brawl
Unbound Worlds Apart
Undead Battle Royale
Unrailed!
Valthrian Arc: Hero School Story
Vectronom
Venture Kid
Venture Towns
Very Very Valet
Violett
Virtual Battle
Vitamin Connection
Viviette
Voez
Voice of Cards: The Isle Dragon Roars
Void Source
Vortex Attack EX
Vostok Inc.
Voxel Galaxy
Voxel Pirates
Voxel Shot
Voxel Sword
Wanderjahr TryAgainOrWalkAway
Wanderlust Travel Stories
War Of Stealth: Assassin
WarioWare: Get It Together!
Warp Frontier
Water Balloon Mania
Werewolf: The Apocalypse Heart of the Forest
What the Golf?
When the Past was Around
Wild Park Manager
Woodle Tree 2: Deluxe
Woodle Tree Adventures Deluxe
Word Puzzles by POWGI
Word Search by POWGI
Word Sudoku by POWGI
Word Wheel by POWGI
Wordsweeper by POWGI
Work It Out! Job Challenge
Working Zombies
World Cruise Story
Worldend Syndrome
World's End Club
Wrestledunk Sports
Wrestling Empire
Wunderling
Xenon Valkyrie+
X-Morph: Defense
Yellow Fins
Yes, Your grace
Yoku's Island Express
Yoshi's Crafted World
Ys IX: Monstrum Nox
Zhed
ZikSquare
---
How Long Do Demos Last On Nintendo Switch?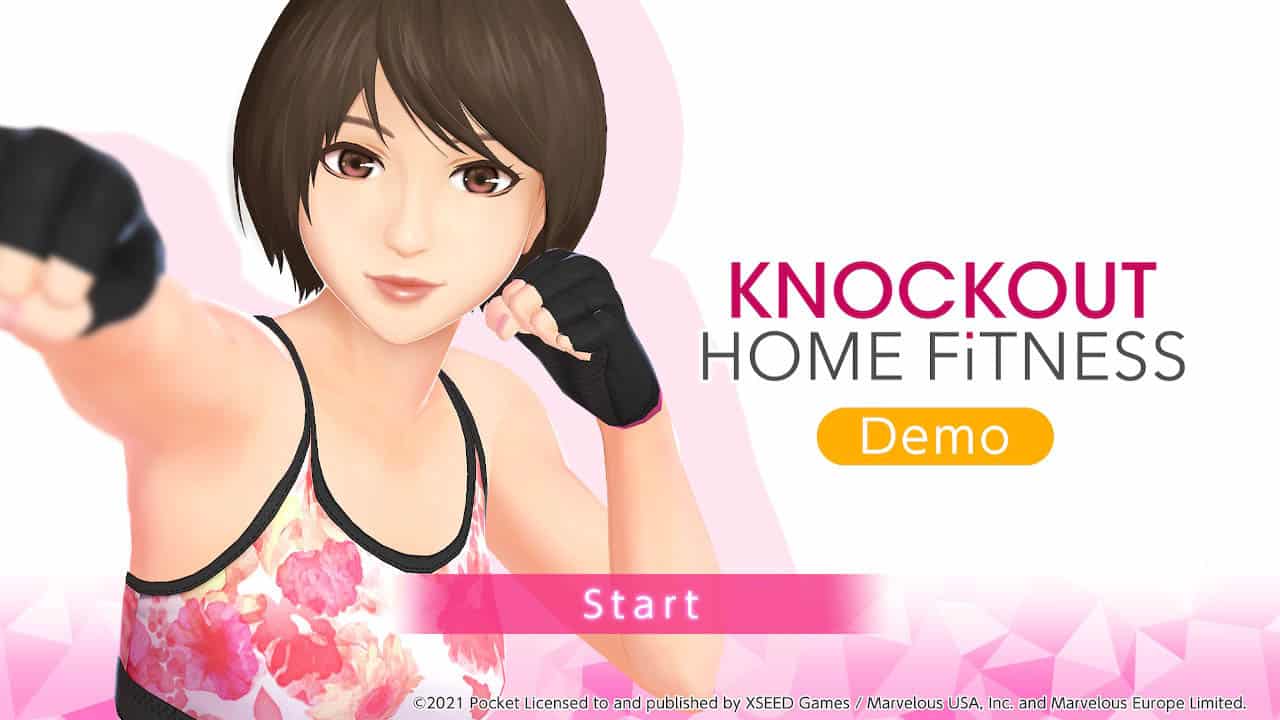 Overall, most Nintendo Switch game demos can be played an unlimited amount of times and for an unlimited duration. Some demos, however, do have set amount of play sessions that limit players from playing the demo for more than the allocated sessions.
---
most Nintendo Switch game demos can be played an unlimited amount of times
---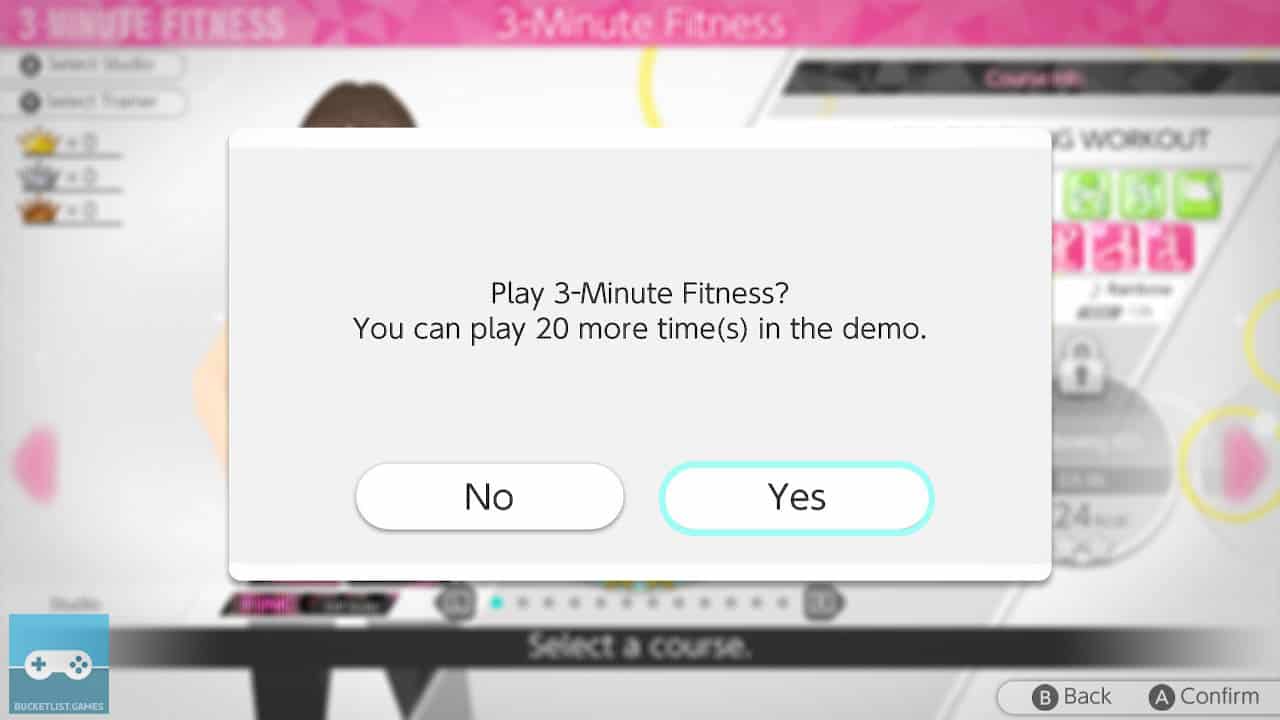 For example, the Knockout Home Fitness demo on Nintendo Switch has a limited amount of sessions a player can play.
The demo will no longer be playable when the maximum amount of sessions have been played.
Other demos might be limited releases and must be downloaded and played by a certain date. The publisher Square Enix uses demos to gain player feedback.
Due to this, their game demos are only available to download for a specified amount of time.
Most Nintendo Switch demos, though, have no play or time limit.
Metroid Dread, Clubhouse Games, and the hundreds of other demos on the Nintendo Switch can be played repeatedly until you're satisfied.
---
Where Can You Find Nintendo Switch Demos?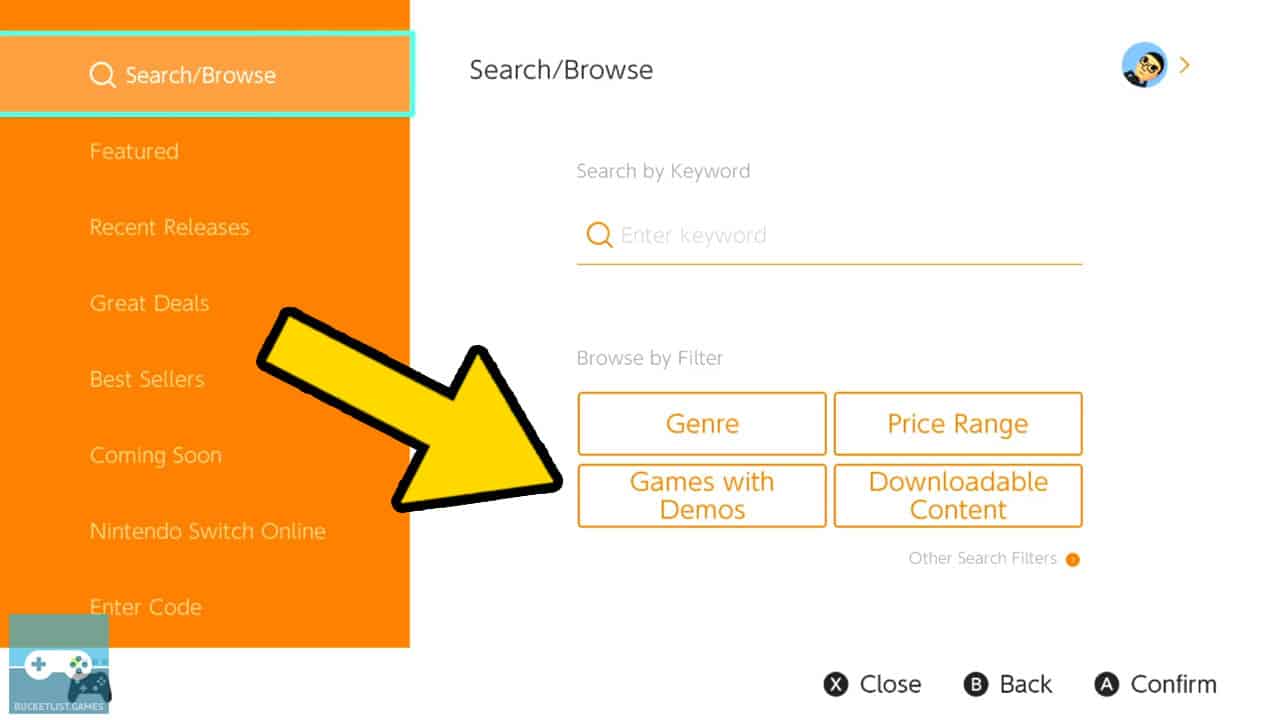 Nintendo Switch demos can be found digitally by launching the eShop app from the Nintendo Switch's home menu. On the Nintendo Switch eShop home screen, navigate to "Search/Browse" tab. Select the "Games with Demos" category under "Browse by Filter" section on the right side of the screen.
---
Nintendo Switch demos can be found digitally on the Nintendo Switch eShop
---
A full list of game demos on the Nintendo Switch will appear.
You can organize the game demos by clicking on the sort button underneath your profile icon in the top right corner of the screen.
Nintendo Switch demos can be sorted by
Best Sellers
Release Date (new to old)
Release Date (old to new)
Price (low to high)
Price (high to low)
You can also filter game demos by age rating and genre by using the options on the left side of the screen.
This makes it easy to find the right demo for you.
Alternatively, you can use the complete list of Nintendo Switch demos in this article to find a game you want to try and simply search for it by using the Nintendo Switch eShop's Search/Browse function.
---
Are Nintendo Switch Demos Free?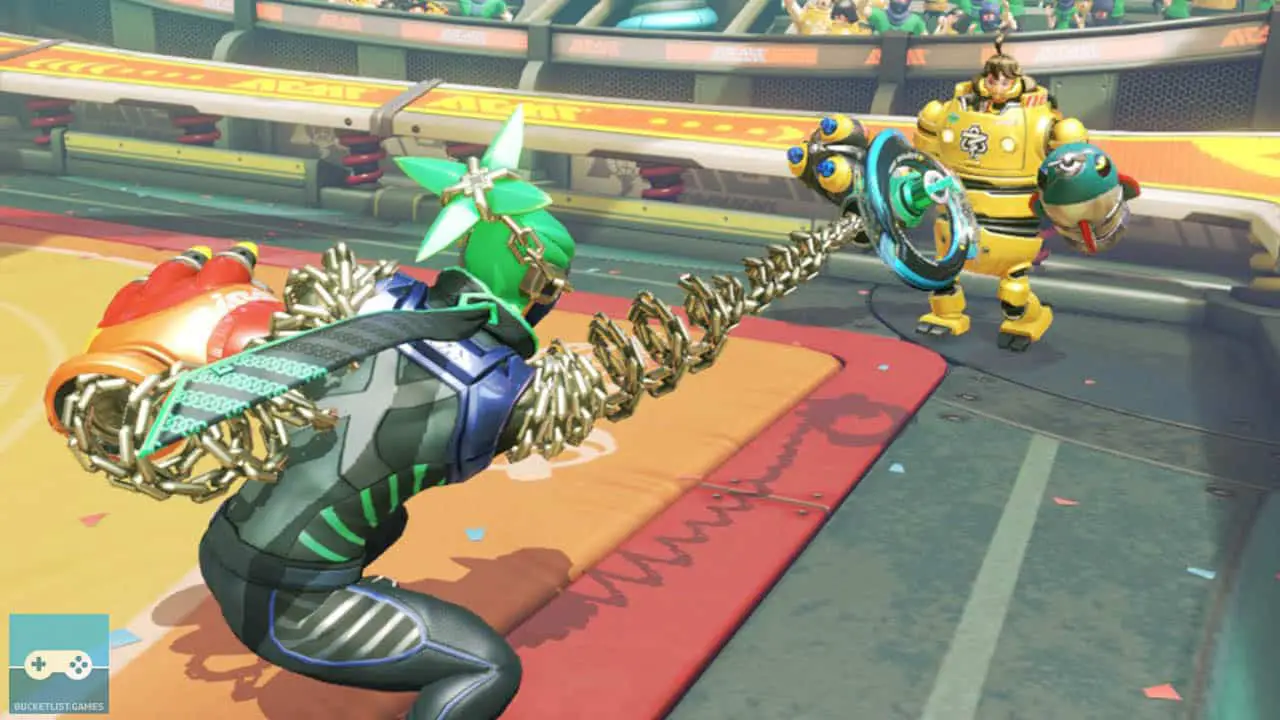 Nintendo Switch demos are entirely free to download and only require an internet connection to download and storage space to install. Demos do not require fees, a credit card, or payment solution to download on Nintendo Switch.
---
Nintendo Switch demos are entirely free
---
Why are demos free?
Demos are game samples that are meant to be tried out and sampled before deciding to purchase the full game.
You can decide to buy the game after you finished playing the demo or not.
It's ultimately up to you, and you have no obligation to spend money after playing the demo.
---
Does ARMS, Animal Crossing: New Horizons, or Super Smash Bros. Ultimate Have A Demo?
Some popular Nintendo Switch games do not have game demos. Animal Crossing: New Horizons, Just Dance series, Mario Party series, Mario Kart 8 Deluxe, Super Smash Bros. Ultimate, and The Legend of Zelda: Breath of the Wild do not have demos.
---
Some popular Nintendo Switch games do not have game demos
---
However, a lot of best-selling Nintendo Switch games do have demos.
ARMS, Dragon Quest 11 S, Fitness Boxing series, Hyrule Warriors: Age of Calamity, Monster Hunter Rise, and Pikmin 3 Deluxe all have game demos to play.
Check out the full list of Nintendo Switch demos above in this handy guide to see which popular games have demos.
---
How To Download Nintendo Switch Game Demos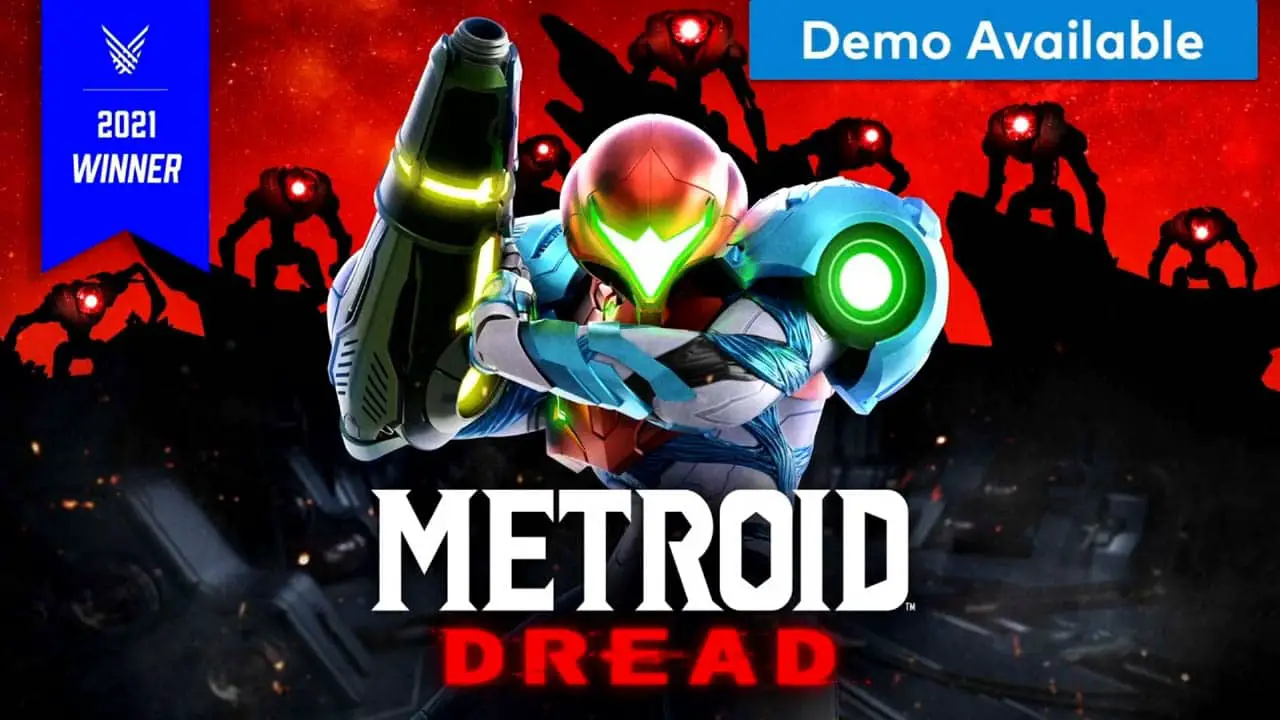 Nintendo Switch has over 500 game demos that are free to download, install, and play.
Thankfully, downloading the plethora of Nintendo Switch game demos is easy to do and only requires 8 easy steps.
Learn how to download Nintendo Switch demos with a detailed step-by-step picture guide I created to help you with the process by clicking here.
---
Other Articles To Enjoy
How To Get Free Nintendo Switch Gift Cards (Actually Works!)
How To Easily Download Twitch On Nintendo Switch
How To Start, Play, And Close You Nintendo Switch Games
---
Read More Great Articles
Now you know the complete list of free Nintendo Switch game demos available to you.
Bookmark this site to stay up to date with even more Nintendo guides, information, and more.
Check out all Nintendo Switch guides articles on Bucket List Games.
---
(Screenshots taken by me. Images sourced from product pages, websites, or social media and are credited appropriately. Logos, images, etc. belong to their respective owners. All information current at time of publication.)
SOURCE: Nintendo